The Dominatrix

</tabber></center>

Characteristics
Race
Human (Enhanced)
Alias
The Dominatrix (女帝, Jotei)
Age
21 (Current)
Status
Alive
Gender
Female
Height
5'7"
Abilities
Abilities
Tactile Lust Inducement
Ecstasy Inducement
Pain Stimulation
Hypnotic Breasts
Cloth Removal
Prehensile Hair
Weapons
Kengenmuchi
Status
Occupation
Hero (Formerly)
Villain
Level
??
Rank
A-class
Affiliation
Heroes Association (former)
Partner(s)
Black Talon
Family
?
Okasu Yurankan (輸卵管犯す, Yurankan Okasu) also known as The Dominatrix (女帝, Jotei). She was the A-class rank 24 hero; who was known for her unique powers and how she uses it to dominate and control both men and women alike. She was also known for seducing and raping Sylph Princess, which resulted in her getting fired from the Hero Association.
Appearance
Personality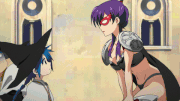 Background
Powers & Abilities
Unique Powers
Mind Yanking:
Tactile Lust Inducement:
Tactile Ecstasy Inducement:
Tactile Pain Inducement:
Magic:
Hypnotic Breasts:
Cloth Removal Wave:
Prehensile Hair:
Enhanced Strength:
Fighting Style
Master Whip User:

Hand-to-Hand Combat (Advanced):
Other Skills
Equipment
Trivia
The Dominatrix is a known sex-offender and a former drug addict.